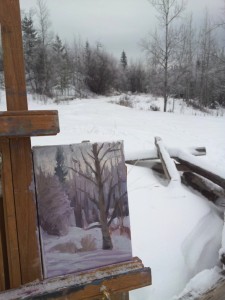 I have just returned from 2 days of landscape painting.
I have decided to keep this practice going as I find it to be beneficial on many levels.
One of the primary beneficial aspects of this is it support in the development of my "formal understanding" so to speak of painting.
when I am at home working on other more 'conceptual work in my studio I have what I learned while landscape painting in terms of the "rules" of painting, color theory, etc coming in and 'grounding' what I am doing in the studio. So in a way Landscape painting becomes a form of a base to my Artwork.
Obviously there is more to it than that but that is one benefit I have found that comes through within doing "on site" or "en plein air" Landscape Paintings.
So this weekend I went out to a farm that is waaaaayyyyy out in the country…they don't even have cell reception! My plan was to "Paint Snow!"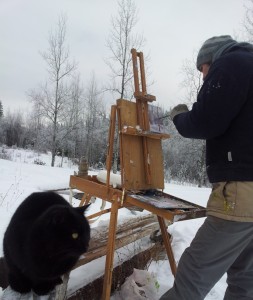 I have never really taken on this Challenge of painting snow and actually have found I have more of an "Anxiety" in relation to doing this. I have found that previously my snow paintings never seemed to work out…I would find the actual painting of the Snow part quite tough.
So as I am getting some New Paintings going the point is simply HERE to take on this point. Normally in the past I have waited until the summer/spring to do my landscape painting and would just skip the winter so atm I have decided to rather take this point on and get outside (warm clothes included) and do some en plein air painting.